We offer an extensive portfolio of homes, townhomes, condos and apartments in the New Orleans area. Locally owned and operated, we value integrity and professionalism above all else. We provide efficient full-service property management services that you deserve and can count on, and our friendly and knowledgeable team is always here to assist you!
We offer a great variety of commercial properties for lease in the New Orleans area. From office spaces of all sizes, retail centers, restaurant space, theaters to warehouses, we have property to accommodate every need. We have extensive experience in the commercial rental industry and actually take pride in helping you grow your business!
We offer an inventory of vacation rentals of charm and distinction in the New Orleans area. There's something for everyone – a vacation getaway perfect for any occasion and to fit any budget based upon your length of stay. We are well known and well trusted by our owners and guests. You can count on our experienced team to promptly answer your inquiries and anticipate your every need!
The Audubon Zoo is an American zoo located in New Orleans, Louisiana. It is part of the Audubon Nature Institute which also manages the Aquarium of the Americas, Audubon Louisiana Nature Center, Freeport-McMoran Species Survival Center, Audubon Park, and Audubon Coastal Wildlife Network.
Jean Lafitte National Park & Preserve
Jean Lafitte National Historical Park and Preserve protects the natural and cultural resources of Louisiana's Mississippi River Delta region. It is named after French pirate Jean Lafitte and consists of six separate sites and a park headquarters.
The Abita Brewing Company is nestled in the piney woods 30 miles north of New Orleans. In its first year, the brewery produced 1,500 barrels of beer. They had no idea what they started. Customers loved the beer! By 1994, they outgrew their original site (now a 100-seat brew pub) and moved up the road to a larger facility to keep up with demand.
Lafreniere Park is the largest park in Metairie, Louisiana. The park is funded by local residents surrounding the park, and a few dollars are added onto their water bill every month.
Olde Towne is the heart and soul of Slidell. From its early beginnings in 1882 until now, Olde Towne has been the cultural center – the area that makes our community unique. Filled with local gift shops, antique stores, unique boutiques, delicious restaurants, historic homes, local art, and a lively bar scene, Olde Towne is our personality. Our identity. Friendly faces can be found strolling through the streets, eating at the cafes, shopping locally, and enjoying time with others. It's our home, our own little slice of southern charm.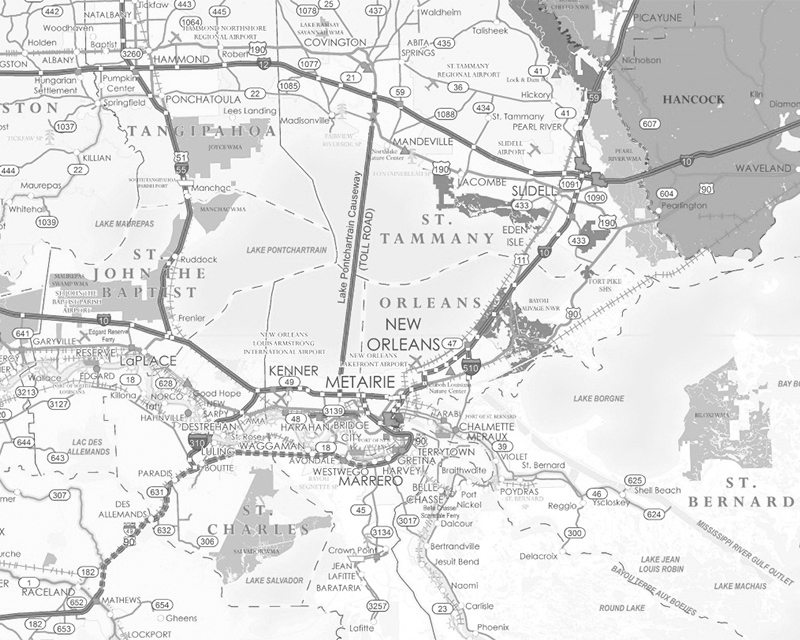 Great Property Locations
Check out our extensive portfolio of personal/residential rentals, commercial rentals and vacation rentals!
Online Payment Portal
We have tools and innovative systems in place to help make things more convenient and more efficient for you!
Top Rated Leasing Team
With decades of experience, you can count on our friendly, knowledgeable and professional leasing team to serve you!

We were looking for the perfect New Orleans home to rent for our super large family gathering, Louisiana Coastal Management patiently worked with us to find the perfect place for all of our needs! It had the charm of Old New Orleans and was clean and well maintained. Thank you!
Michelle T.
Garden District - New Orleans, LA

I recently started a new business and needed just a one-room office to get started. Louisiana Coastal Management helped me find the perfect place and then as my business grew, they helped me find a larger place to suit my needs. Their staff is very friendly and helpful! I feel like they are part of my team!

We wanted to move our corporation to New Orleans but we ran into difficulty finding a place large enough within our budget. Louisiana Coastal Management was able to work a great deal for us and we now call New Orleans home!
Russell M.
Uptown - New Orleans, LA